For the 2021 RIDE Machete men's snowboard, RIDE teamed up with snowboard legend and cultural icon Trevor "Trouble" Andrew on this special graphic.
Trevor "Trouble" Andrew, aka Gucci Ghost, is a former professional snowboarder, musician and multi-disciplinary Artist based in Los Angeles, CA. Internationally known for his raw street aesthetic and pop art sensibility, Trevor's recent work explores our relationship with consumer culture, bending the perception of what is "real" and what is a luxury.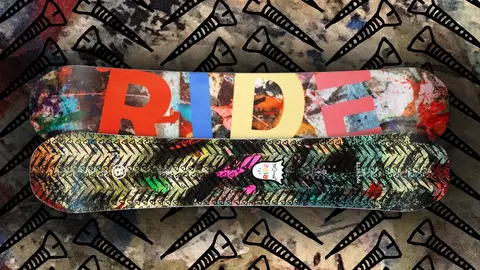 The Machete offers all around performance, at home in any conditions this shape is tested and approved by snowboarders all over the world. The hybrid rocker camber profile provides camber between the bindings for snap and response with a slight rocker at the tip and tail to make it catch free in harder conditions, while providing float in softer snow. The twin shape makes it perfect for freestyle progression all over the mountain. This year we worked with snowboard legend and culture icon Trevor Andrew on the graphic. A Quadratic Sidecut improves turn initiation/exit and edge grip. Carbon Slimerods® 1.0 have carbon for pop and a slime-core to smooth out the landings. Carbon Array 3™ provides extra pop without adding stiffness. Slimewalls® provide a smoother ride and increase durability. The Machete is a mid-flexing twin suited for all levels of riders looking to stand out with an iconic graphic.
LEARN MORE ABOUT TROUBLE ANDREW HERE
Trevor's Instragram - HERE
Trevor's Soundcloud - HERE
Trevor's Facebook - HERE
Trevor's Twitter - HERE
--