 We didn't set out to reinvent the binding—
we set out to perfect it.
The A-Series Chassis provides the reactive flex and power transfer of aluminum underfoot. The A-Series Chassis was designed to allow the aluminum to flex under the rider's weight allowing for a much more reactive ride.
The C-Series Chassis pairs the extruded aluminum heel-cup with the option of a glass-filled nylon or a polycarbonate base tray. The heel-cup provides ultimate toe heel response, while the composite tray underfoot offers a comfortable and smooth ride.
A Series and C Series both feature
Vibration Damping Footbeds
FOR A SMOOTHER RIDE
A Series and C Series both feature
Aluminum Heel Cup
FOR MAXIMUM RESPONSE AND PERFORMANCE



A-Series Chassis combines a completely redesigned T6061 Stamped Aluminum Tray with an Extruded Aluminum Heelcup for the rider that prefers the precise feel of an Aluminum binding.
OPTIMIZED FEEL OF ALUMINUM
REACTIVE FLEX POWER TRANSFER WITHOUT RIGIDITY
Precise feel - Lightweight - Durable

LESS HARDWARE AND OVERLAPING ALUMINUM THAN PREVIOUS DESIGNS ALLOWING THE ALUMINUM TO FLEX AND REBOUND MORE
ROUNDED BASE TRAY CONTACT POINTS FOR MORE TORSIONAL ROLL AND CONSISTENT BOARD FLEX
2 PIECE DESIGN ALLOWS FOR MAXIMUM ADJUSTABILTY FOR A WIDE RANGE OF BOOT SIZES
Aluminum Series
Binding Parts
1. Highback Lean Adjust, 2. Highback, 3. Heelcup, 4. Mounting Disc, 5. Disc Mounting Hardware/Washer, 6. Chasis, 7. Footbed, 8. Ankle Ladder Strap, 9. Ankle Buckle, 10. Ankle Strap, 11. Ankle Mount Strap, 12. Toe Ladder Strap, 13. Toe Buckle, 14. Toe Strap, 15. Toe Mount Strap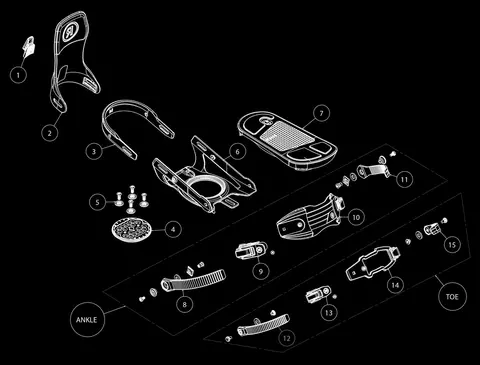 C-Series Chassis is built with the Extruded Aluminum Heelcup (same new part as A-Series) bonded with a state of the art composite tray.
Designed for the rider that prefers the look and feel of composite underfoot but demands the responsive performance of an Aluminum Heelcup.
PERFORMANCE OF ALUMINUM HEELCUP
Power transfer - Perfect fit (toe/heel centering for multiple boot sizes) - Durability
FEEL OF COMPOSITE TRAY
More damp than aluminum - More flexible and less reactive underfoot than Aluminum
Composite Series
Binding Parts
1. Highback Lean Adjust, 2. Highback, 3. Heelcup, 4. Mounting Disc, 5. Disc Mounting Hardware/Washer, 6. Chasis, 7. Footbed, 8. Ankle Ladder Strap, 9. Ankle Buckle, 10. Ankle Strap, 11. Ankle Mount Strap, 12. Toe Ladder Strap, 13. Toe Buckle, 14. Toe Strap, 15. Toe Mount Strap