We didn't set out to reinvent the binding - We set out to perfect it. Explore the new A-Series and C-Series bindings, featuring innovative tech like vibration dampening footbeds and aluminum heel cups.
ALUMINUM-SERIES

CHASSIS
A-Series Chassis combines a completely redesigned T6061 Stamped Aluminum Tray with a Forged Aluminum Heelcup for the rider that prefers the precise feel of an Aluminum binding.
The A-Series Chassis provides the reactive flex and power transfer of aluminum underfoot. The A-Series Chassis was designed to allow the aluminum to flex under the rider's weight allowing for a much more reactive ride.
HARDWARE & FEEL
Precise feel - Lightweight - Durable
Less hardware and overlapping aluminum than previous designs allowing for more flex and rebound.
Rounded base tray contact points for more torsional roll and consistent board flex.
2-piece design allows for maximum adjustability for a wide range of ski boot sizes.
PARTS
1. Highback Lean Adjust, 2. Highback, 3. Heelcup, 4. Mounting Disc, 5. Disc Mounting Hardware/Washer, 6. Chasis, 7. Footbed, 8. Ankle Ladder Strap, 9. Ankle Buckle, 10. Ankle Strap, 11. Ankle Mount Strap, 12. Toe Ladder Strap, 13. Toe Buckle, 14. Toe Strap, 15. Toe Mount Strap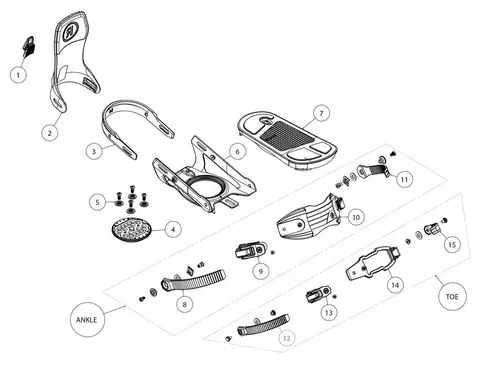 COMPOSITE-SERIES
CHASSIS
The C-Series Chassis pairs the extruded aluminum heel-cup with a polycarbonate base tray. The heel-cup provides ultimate toe heel response, while the polycarbonate tray underfoot offers a comfortable and smooth ride.
C-Series Chassis is built with the forged aluminum heel-cup (same new part as A-Series) bonded with a state of the art polycarbonite tray. Designed for the rider that prefers the look and feel of polycarbonite underfoot but demands the responsive performance of an Aluminum Heelcup.

HARDWARE & FEEL
Aluminum Heelcup Performance: Power transfer - Perfect fit - Durability
Composite Tray: More damp than aluminum. More flexible and less reactive underfoot than aluminum.
PARTS
1. Highback Lean Adjust, 2. Highback, 3. Heelcup, 4. Mounting Disc, 5. Disc Mounting Hardware/Washer, 6. Chasis, 7. Footbed, 8. Ankle Ladder Strap, 9. Ankle Buckle, 10. Ankle Strap, 11. Ankle Mount Strap, 12. Toe Ladder Strap, 13. Toe Buckle, 14. Toe Strap, 15. Toe Mount Strap